Available Door Styles
Composite Range (Click on image for further options)
Bamburgh
Balmoral
Caernafon
Windsor
Edinburgh
Stirling
Cottage
Available in:
Heritage Range
Broadway
Draycott
Moreton
Bourton
Kemble
Stow
Arlington
Door Panel Range
Devon
Victorian
Edwardian
Windsor
Warwick
Jacobean
Regal
Available colours:

Cambridge
Cornwall
Back Door
Stable Doors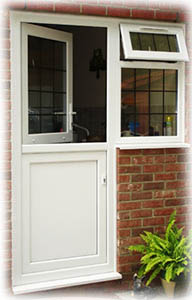 More versatile than a standard door. The PCVu Stable Door provides maximum ventilation without the need to open the whole door, keeping children and pets safe.
Both, top and bottom, have separate locking for security.
The first impression a visitor gets of a home is the front door and it is important both for the home and the owner that it looks its best.
Composite Range
GRP faced composite doors offer the perfect solution for your home. The door skins are manufactured from GRP (Glass Reinforced Polyester). They are compression moulded to give a high definition panel design, which offers authentic timber appearance. Coloured doors are impregnated and repainting will never be necessary.
Heritage Range
Heritage range are a new concept in luxury doors. By bringing modern performance standards to the fabulous appearance of traditional tongue & groove panelling and an exceptional grained finish, they enable every home owner to enjoy the very best doors for their homes.
Door Panel Range
Quality, Variety and Design
Variety - "the spice of life" a fact that we have long recognised, so customers with particular requirements are able to buy doors with a full range of Pilkington obscure glass and virtually any lead or bevel design that may be required.
All door panels are made from maintenance free heavy dury PVCu which offers the highest resistance to weathering, ageing and even fire. A resilient foam core with MDF as standard provide insulation and security.
French Doors
Whilst still featuring the same build quality and security used in residential doors, the Visage® French Door also offers locking handles on both doors operated by the same key.